COMPETENCE IN ACTION … PROFESSIONALISM IN EXECUTION
Innospectra offers a host of professional testing / audit services to complement it's rich portfolio of products and solutions . These tests / audits / assessments are supervised by personnel with the necessary professional qualifications as follows :
Our assessment & testing is followed up with detailed reports that include the following
ESD Surveys, Audits & Testing Services
Supervised by qualified professionals Innospectra is able to provide field testing of static control (ESD safe) materials as well as perform audits & surveys to evaluate and assess whether proper ESD controls are in place, proper materials are selected and workstations & tools within EPA (Electrostatic Protected Area) are appropriately selected to be ESD-safe . Basically this covers the testing of ESD Control items like garments, flooring, Worksurfaces & mats, seating, grounding, ionizers (if present), packaging materials, tools & fixtures, hand tools, automated handling equipment (AHE), storage equipment like racks, trolleys including mobile equipment amongst others. Testing and evaluation is done according to Industry recognised standards like the ESDA S20.20, ESDA TR 53, IEC 61340-5- 1, SEMI E43, SEMI E129 and Innospectra's own internal Testing Procedures for the Compliance Verification of ESD Protective Equipment & Materials . The testing covers resistance testing using specific electrodes (Point to Point, Point to Ground, Surface resistance), evaluation of the grounding, measuring the electrostatic field of surfaces & materials (including evaluating the tribocharging propensity) and evaluating & measuring the ESD events from specific processes .
Static Control / ESD Training
Innospectra provides Half to Full day static control & ESD Training that covers :
ESD Basics / Fundamentals
ESD Controls (covers Types & Selection of ESD Controls, Implementation & Measurement)
Compliance Verification Testing (per ESD S20.20)
Fundamentals of Ionization (Includes Theory, Evaluation, Selection & Testing of Ionizers)
Developing & Managing a ESD Control Program
The training can be packaged with a site factory audit, if required . Customised training courses tailored to specific end user needs are also available, upon request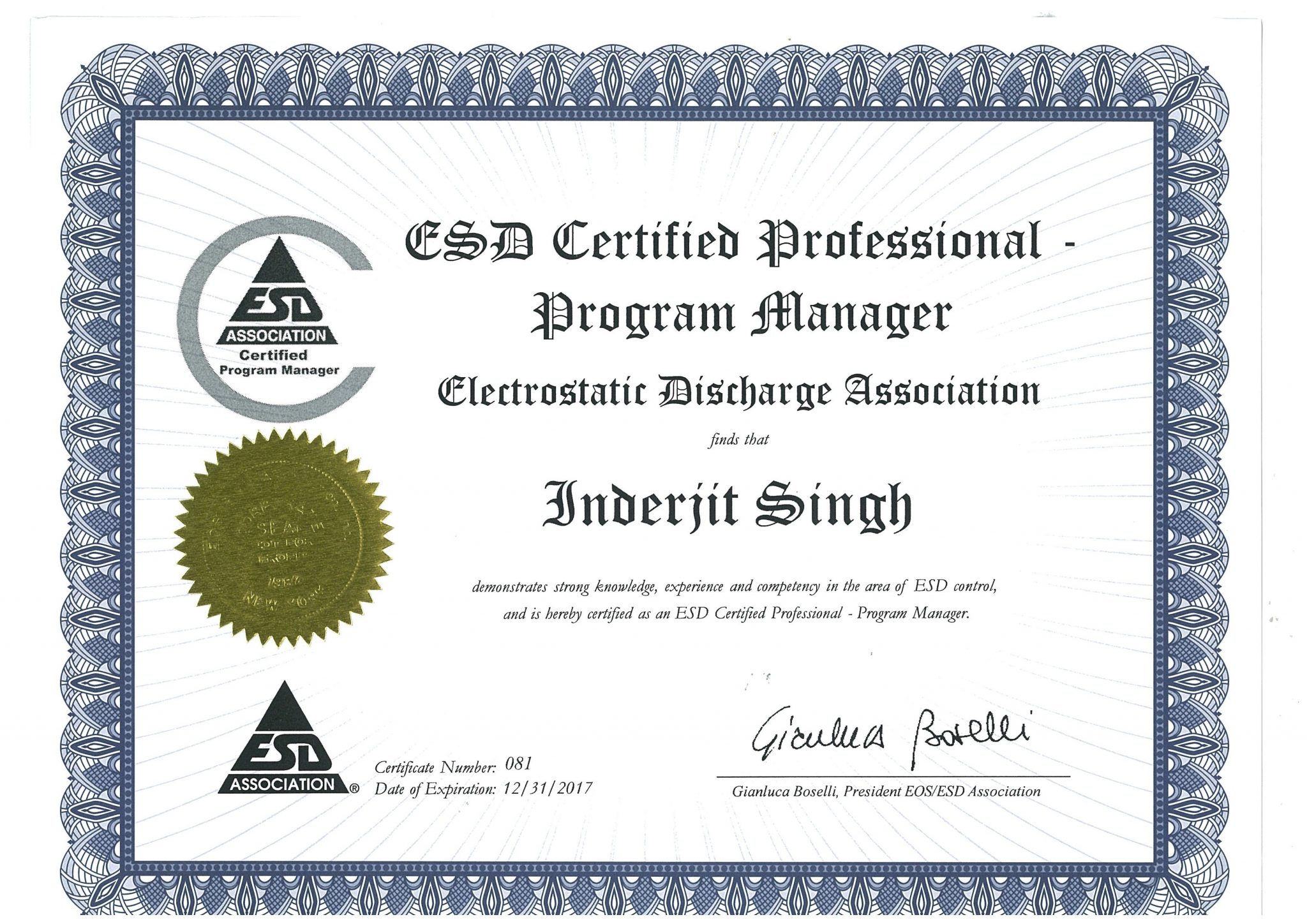 Assessment / Evaluation of Process Tools / AHE (including Measuring & Locating ESD Events)
Innospectra is able to perform a series of tests that encompass measurement of resistance, grounding, surface charge, electrostatic field and the number (& location) of ESD events within process tools and AHE (Automated Handling Equipment) . These series of tests could be done prior to buy-off & acceptance, on a yearly periodic verification basis or on a case by case basis per end user requirements . Customised tests pertaining to specialised tools can be worked out as well as part of a tool buy-off plan . This kind of assessment ensures that only proper materials that are ESD safe are being used within the tool & it also gives an indication on whether the tool falls within the limits of the device damage threshold, based on CDM (Charged Device Model) simulation .
Through the use of specific ESD event monitors and data acquisition software, critical areas in the tools or AHEs can be evaluated and assessed over a period of time during buy-off or even later in Production mode to ascertain not only the location of possible ESD events but also to quantify the discharge voltages . This ensures that the product remains ESD-safe during handling & processing.
Developing, Preparing & Managing a ESD Control Plan & Program per ESDA S20.20 (or IEC61340-5-1)
This involves consultation, assessment, evaluation, testing, training and periodic verification. Innospectra is able to assess your manufacturing facility from Incoming parts to Final Packaging in order to establish, implement & maintain a comprehensive ESD Control Program Plan based on specific administrative & technical requirements as stated in the ANSI/ESD S20.20 Standard.
The administrative requirements include Training, Product qualification & Compliance verification plans. The technical requirements cover Grounding / Equipotential Bonding Systems, Personnel grounding, establishing EPAs, Packaging and appropriate Marking & signages. Once an ESD Control Program Plan is established per guidelines of ANSI/ESD S20.20 – the facility is then able to go for certification (similar to other ISO certifications) and be S20.20 certified by an externally approved & professionally accredited S20.20 certifying agency or auditor (trained by the ESD Association).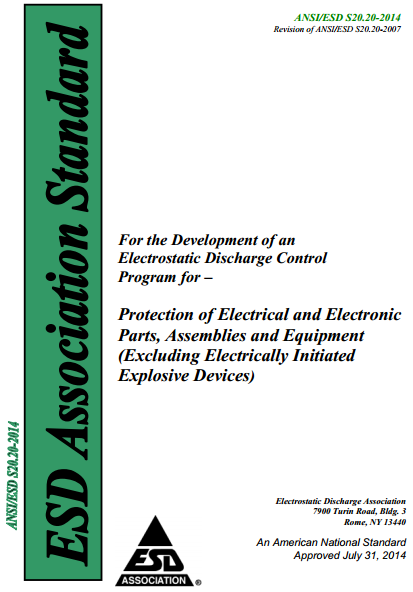 Mini-Environment / Clean Air Devices / Cleanroom Testing services
Supervised by a NEBB certified CPT Professional, Innospectra is able to provide third party mini-environment, clean air devices and cleanroom performance testing services based on Internationally recognised ISO standards (ISO 14644-1, -2, -3) / IEST Recommended Practices (IEST-RP- CC006) and the NEBB Procedural Standards for the Certified Testing of Cleanrooms .
Testing includes but not limited to HEPA/ULPA Filter Installation leak test, Airborne Particle Count Test, Air Velocity & Uniformity test, Room Pressurization test, Temperature / RH tests, Sound Pressure level test, Lighting Intensity test, Airflow Parallelism test, Electrostatic tests (includes Electrostatic field & Air Ionization Performance tests) & Flooring (Worksurface) Resistance Test etc .
Contamination (+AMC) Control Consultancy
Based on years of experience of our founder, Innospectra is able to offer consultancy services to assess and evaluate particle contamination as well as AMC (Airborne Molecular Contamination) control issues, either within the cleanroom in general or within clean process tools (especially within the Semiconductor facilities) . This involves assessing the area, performing a series of tests that might include particle counting, gas or AMC (NH3, HF, HCL etc) analysis, airflow measurement, airflow visualization tests to locate the source of the contamination and then recommending a solution to contain, reduce & control the contamination per se .
Our effective S.M.A.R.T Initiative & approach towards problem solving & diagnosis has given us the confidence to offer tried and tested solutions to our customers based on our professional experiences & expertise. This 5-steps process is applicable to resolving most contamination (+AMC) or static control issues from our catalog of practical & hands-on remedy solutions. The simple 5-steps process comprises :
SURVEY● MEASURE ● ANALYZE ● RECOMMEND ● TRAIN
S.M.A.R.T
SURVEY
Assess the problem / issue

M

EASURE
Make necessary tests / measurements & monitor

A

NALYZE
Analyze the test data

R

ECOMMEND
Recommend solutions from our portfolio of tried and tested remedies & Implement 

T

RAIN
 Provide training on the implemented solution